Immerse your senses, delve into creativity & revive your playful spirit.
This facilitated retreat is ideal for anyone who wants so be creative in community with self, other, and nature, while having generous time to relax or adventure in the natural beauty of a tropical island.
The week is designed to practice bringing more awareness, and delight, to the interactions between ourselves and the worlds in which we exist, to cultivate an increased capacity to notice with all our senses, to be curious about the inner self, to linger for just a bit in a world away, and ultimately return home with a bit more grace and playful appreciation of all that is within and around us.
Especially suited to therapists and other healing professionals with an interest in play and expressive arts approaches in their work and for their own reflection and restoration.
While we will be using art processes, no prior experience with any medium is necessary.
Presence and play all day
Each day begins with engaging your senses and building your capacity to be present through a short guided meditation and yoga, cooled by ocean breezes, followed by a scrumptious, plant-based breakfast featuring local exotic fruits. Linger on the veranda overlooking the sea before we plunge into our experiential workshops.
Each day has a theme which we will explore in our morning workshops and with prompts that can be used for reflection throughout the day. Art supplies will be available in the common room to use as you wish.
After lunch, we will continue engaging with our daily theme for a bit before being set free to soak in the saltwater pool or explore white sand beaches, peaceful harbors and rocky shorelines. Take a bike ride or go for a hike in many different ecosystems. We'll provide opportunities to snorkel, kayak, visit a coral restoration project, or take a guided tour of the historic Butler Estate. Swing in the large tree hammock or simply relax on the veranda. Matece will be available if you'd like to book a massage on site, you won't regret it!
In the evening we gather in the ocean view gallery porch for dining on a sumptuous gourmet 100% plant-based dinner prepared from local organic produce while the sun sets beautifully behind the water. After dinner we have a variety of evening activities that round out the daily theme, including night snorkels, kayaks, dancing, and sharing reflections. Gazing at the stars and marveling at the vast universe is is a perfect end to any day.
Facilitated Workshops
a sampling of what's to come
We will start the week exploring masks (persona) and end with mandalas (wholeness) with many activities in-between that tie together our broad theme of exploring the inner and outer landscapes.
Masks
Mandalas
Basket Weaving with Carmen Corradino
Explore the Sacred Elements: Fire, Earth, Water, Air
Photography walk, nature arts, watercolor, and a guest lecture by artist Ann Percival
Guided reflections & moving meditations, poetry, journal, writing prompts
Sand castles, clay, dancing, picnics, hikes, doodles and dribbles, and more.
Curated Adventures
included in price
These experiences are designed to reflect the retreat themes of being present and playful, in tune with what is around and within us.
Guided snorkel along Frederiksted Pier, both day and nighttime
Guided snorkel of the Coral Restoration Project in Butler Bay
Guided nighttime kayaking. Depending on the moon cycle, in luminescent waters
Hike and picnic at Ham's Bluff
Swimming and sunning at Rainbow Beach
Shopping/dining trip to Christiansted in an open air taxi that includes an organic fruit smoothie upon arrival
Historical walking tour of Butler Estate
Optional activities
not included in price
Bodywork Sessions: Matece Skow, an experienced massage therapist, will be available for private bookings on site. You will want to take advantage of this!
Live Music Sunset Sail: Our final night excursion is a sunset sail with live music. This excursion is optional (not everyone likes boats!) so it is *not* included. The trip costs $150 and we will help with reservations.
Whatever else you choose from all the island offerings
Three organic, vegan, plant-based gourmet meals catered daily
A Full Breakfast: fresh exotic, local fruits, coffee & tea, fresh squeezed juices, smoothies, and baked goods
A Tropical Lunch daily all prepared from fresh local produce
A Two Course Dinner each evening with dessert
UV-filtered water, teas and coffee available throughout the retreat
NOTE: All food is vegan. We can accommodate allergies & sensitivities, please make sure to list them when you sign up.
Comfort & Sustainability
This historic estate is part of a 260-year-old plantation that is being transformed into a seaside botanical food-forest. It maintains a Danish architectural appeal while providing modern conveniences. The rooms are 100% solar powered and adjacent to a secluded bay for snorkeling and swimming. Each room has a private entrance and it's own private bathroom. While every room is different, each has iconic views overlooking the Caribbean.
Shared or Private Room Options
All prices listed are per person.
Please note the majority of our room options are shared. If you are traveling with friends, please write in the comments section of your checkout with whom you would like to room. If you are traveling alone, we will pair you in shared accommodations.
See the Accommodations Options page for more details and room photos.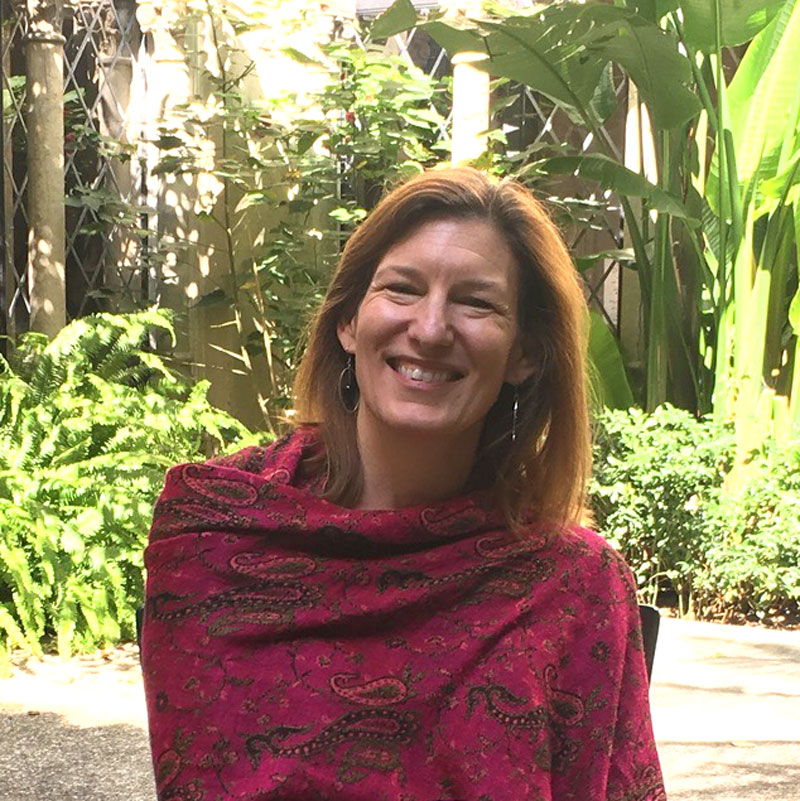 Heather Maritano
Retreat Facilitator, LCSW, RPT-S
Heather Maritano, founder of Inner Resources Counseling & Training, has been supporting the growth and healing of clients, colleagues, and community for over 25 years through therapy, education, mentoring, and advocacy. She creates soothing spaces, relationships, and experiences that invite exploration and discernment through steady presence.
Heather has clinical specialities in play, sandtray, & expressive arts therapies. She has traveled and trained throughout the world.
She maintains a sense of awe, regularly practices her belief in the healing powers of play, and is particularly fond of dancing.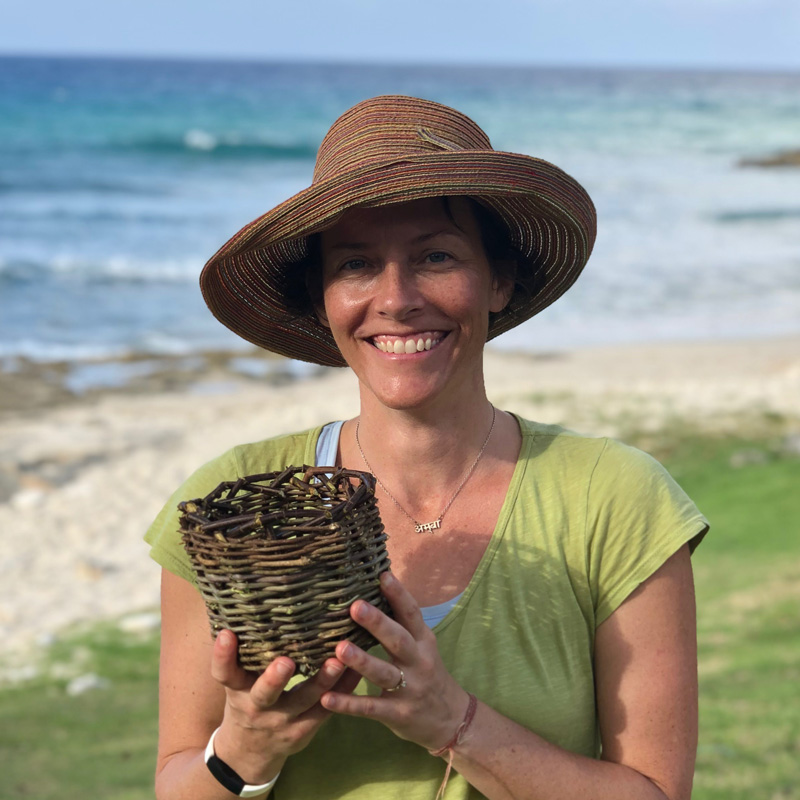 Matece Skow
Activity Director, Masseuse & Yoga Instructor
Matece Skow, founder of Nourishing Heart Yoga, has been fostering compassionate growth and healing for students and clients for the past 24 years. She facilitates safe and nurturing environments for the transformation of body and heart through the practices of yoga, breath work, meditation, essential oils, hands-on healing, and massage.
An avid traveler, Matece has led numerous international and domestic retreats and trainings. Through her travels and online yoga classes, she has had the pleasure of sharing yoga with people all over the globe. She has been coming to St. Croix for 15 years
Saint Croix
U.S. Virgin Islands
The Journey
St. Croix is one of the U.S. Virgin Islands, in the Caribbean. It's one of the easiest destinations in the Caribbean to enter; U.S. citizens don't even need to bring their passports. But you must be prepared to show evidence of citizenship upon leaving (such as a government issued photo ID or your passport). It is recommended that travelers bring a government issued photo ID and copy of their birth certificate. Citizens of countries other than the U.S. should follow U.S. travel regulations.
American Airlines, Delta Airlines, Spirit Airlines and Bohlke International Airways currently offer direct flights from the U.S. Mainland to St. Croix. American Airlines currently offers two flights daily from Miami (MIA), along with one daily flight from Charlotte.
Feather Leaf Inn is a short 30 minute drive from Henry E. Rohlsen International Airport (STX).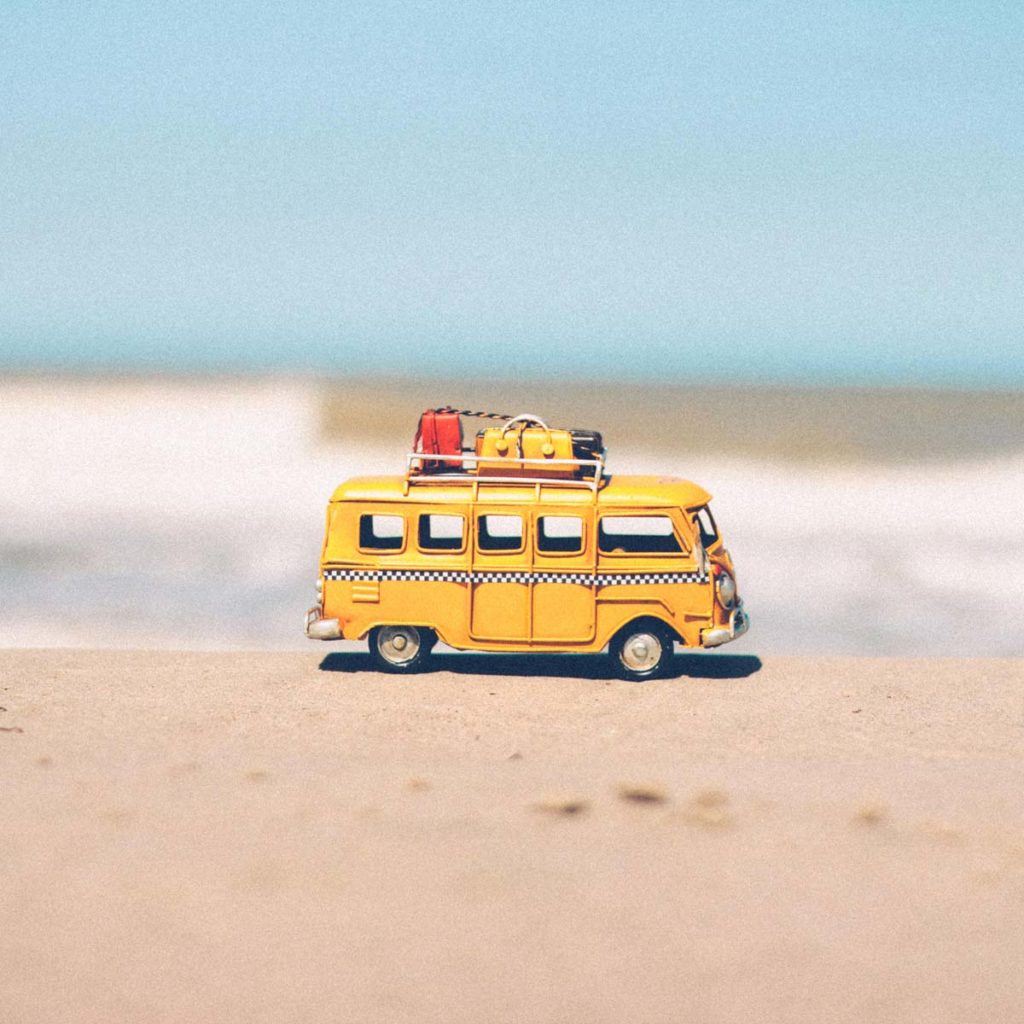 Ground Transport & Gratuity
Roundtrip transfers from the airport are included at no additional charge.
Transportation on arrival and departure day will be made according to the flight schedule of our participants. We will do our best to keep your wait at the airport to a minimum!
It is recommended to bring cash for gratuities for drivers and staff. $2 to $3 per night for room staff is recommended, though generosity knows no bounds. We can provide additional guidelines.